2022 Running Chicken 10K & 5K Fun Run / Walk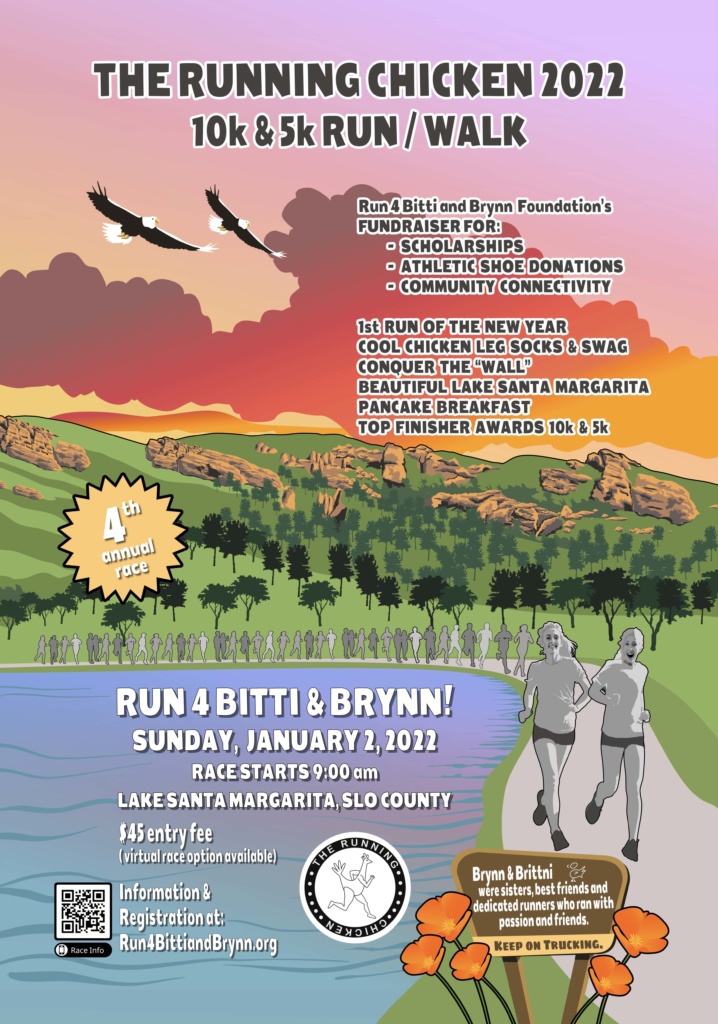 Race Day – Sunday, January 2, 2022 9:00 am Lake Santa Margarita
Entry fee was $45.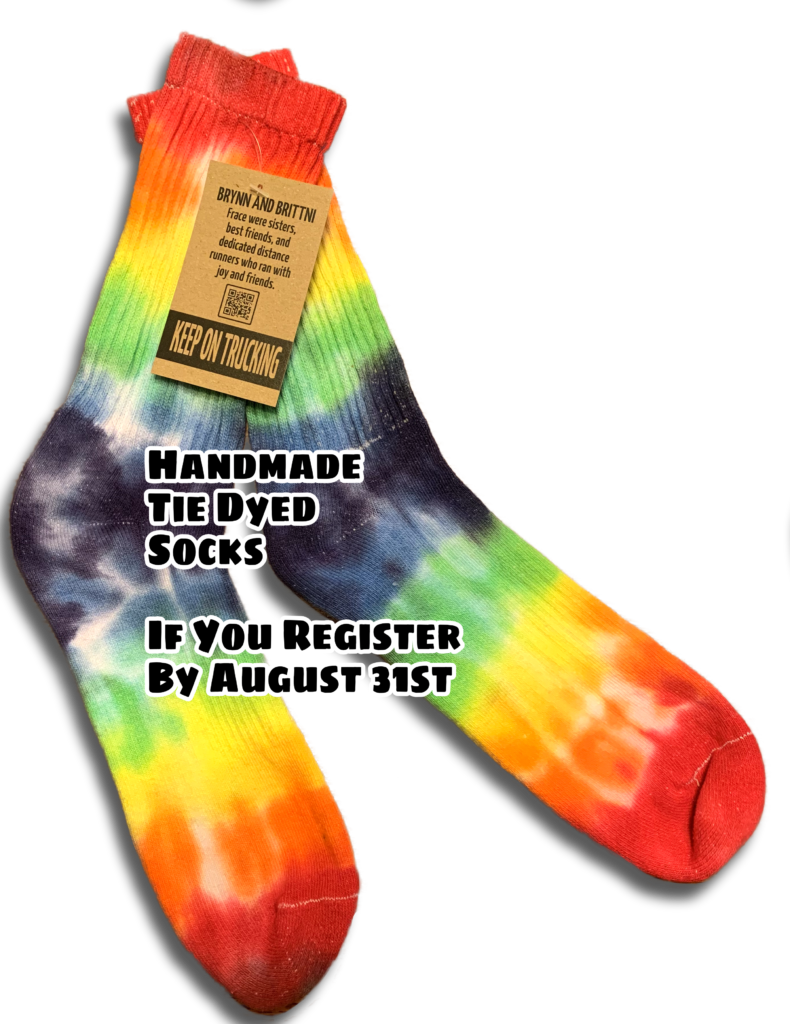 Keep on Trucking! – Brynn's Favorite Saying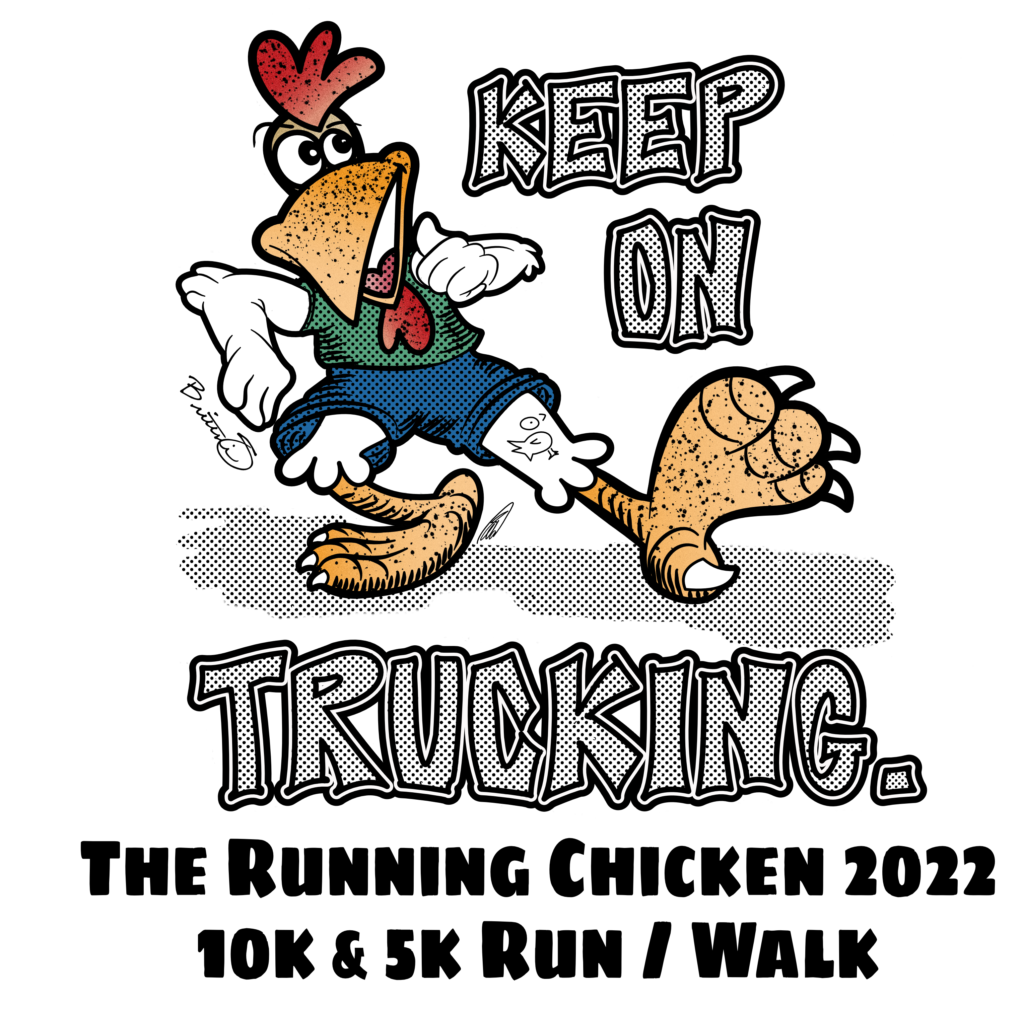 Race swag package was available for the first 400 registrants.  Swag Includes: specially designed
2022 chicken socks
, Running Chicken Mug, temporary chicken tattoo, Find Your Inner Chicken bracelet, branded wood Collector Chicken Coasters, and a few other terrific items designed to bring out your inner chicken! The
 Packet Pick-up
was on
two days:
Friday, December 31st, from 9:00 am – 1:00 pm
Saturday, January 1st, 2022 1:00 – 4:00 pm
Pick-up
was at the
parking lot
for
Spring Hill Suites
in
Atascadero
, located at 900 El Camino Real (near the Home Depot).   .
This Year's Race Art – Inspired by Brittni
This year's Race Shirt is inspired by Bitti's Keep on Trucking… and Free Range Chicken Art.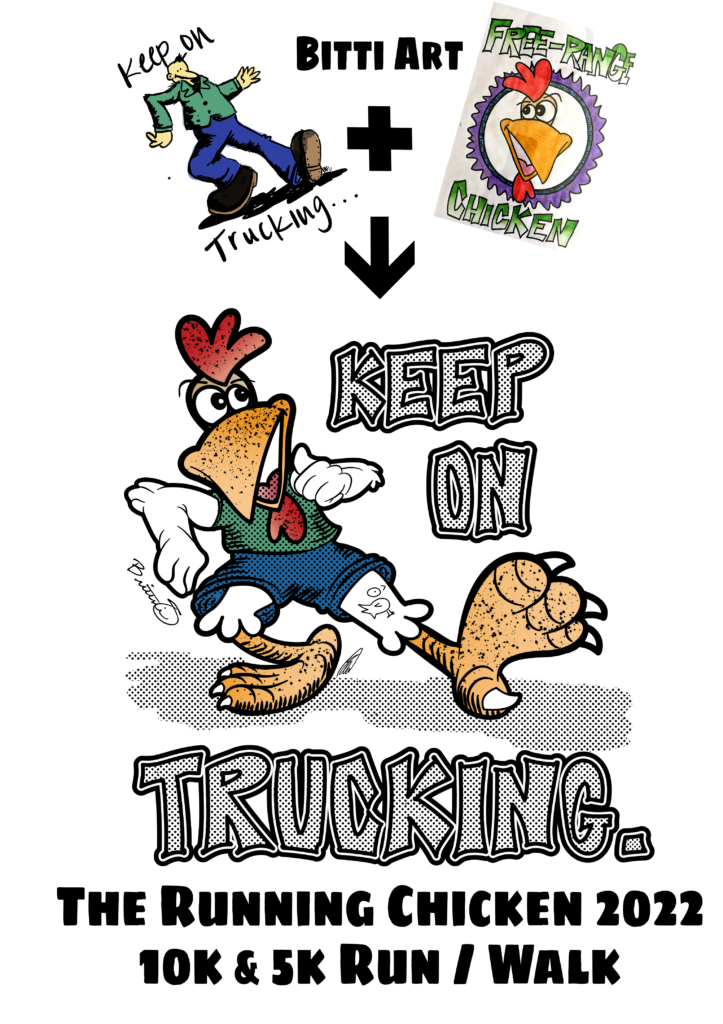 This year's Race Bib is inspired by by Bitti's Running Chicken and Look for Rainbow Art.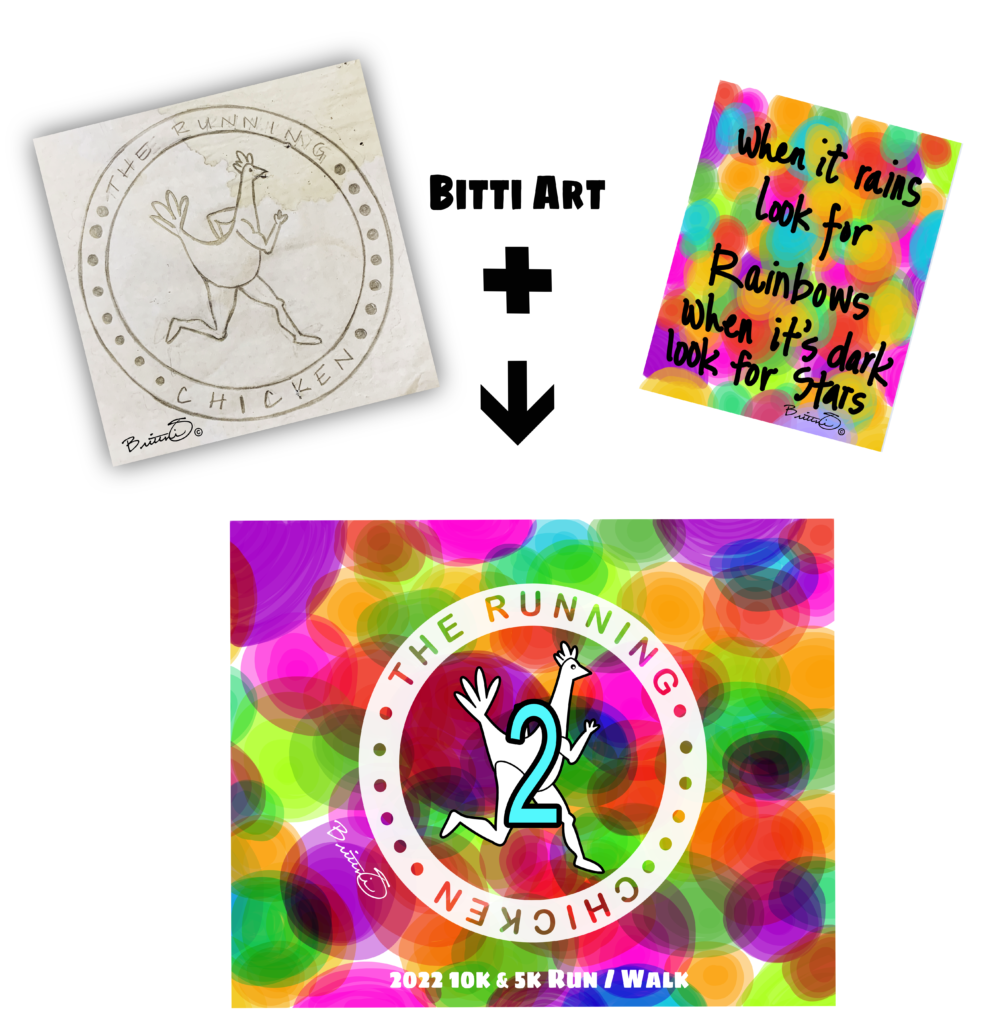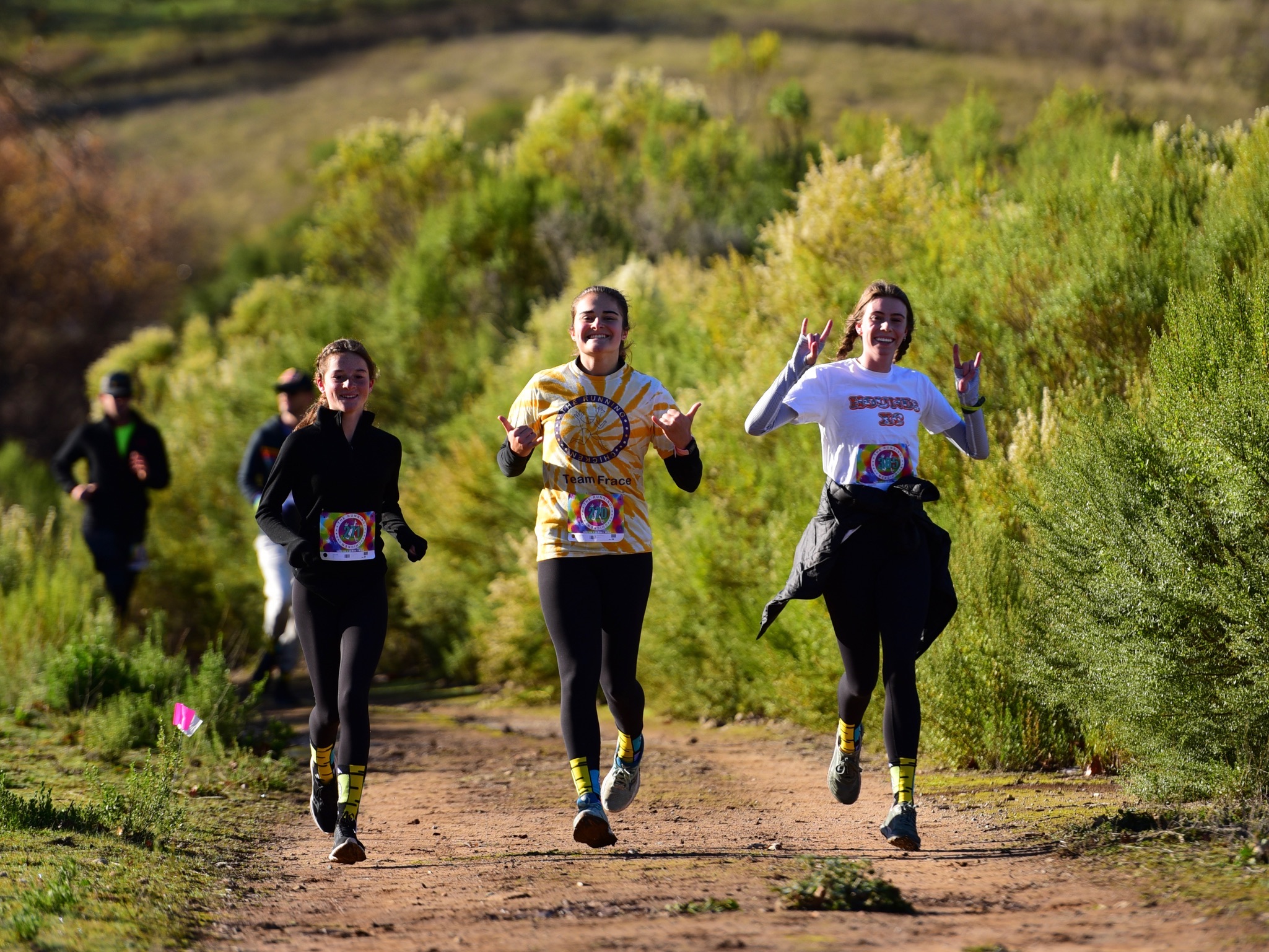 Race Videos
Camille Franco's Race Video (click)
D Films – 2022 Running Chicken Race Video (click)
Run 4 Bitti & Brynn 2022 - 1/2/2022         
         Santa Margarita Lake, Santa Margarita, CA            

                        5K Walk/Run                         
============================================================
    Name                  Bib No.                       Time
------------------------------------------------------------
                           Women                            
------------------------------------------------------------
  1 Frances Perry             381                  22:02.64 
  2 Mattea Kalpakoff          448                  22:56.21 
  3 Mariah Boche              337                  23:50.11 
  4 Grace Kirschner           366                  26:03.30 
  5 Kayden Jones              303                  27:22.08 
  6 Aurora Peterson           358                  27:22.80 
  7 AnaMagdalena Puentes      439                  27:49.30 
  8 Kelsey Hammond            233                  27:49.83 
  9 Jordan Hammond            232                  27:50.14 
 10 Katy Griffin              456                  27:55.67 
 11 Amie Hammond              231                  27:57.05 
 12 Adriana Puentes           440                  28:36.14 
 13 Zoya Dixon                324                  29:17.58 
 14 Angela Pericic            309                  29:25.95 
 15 Chelsea Dauer             420                  30:11.67 
 16 Kimberly Dauer            419                  30:15.95 
 17 Ananda Watkins            362                  30:17.42 
 18 Tammy Pomi                256                  30:27.11 
 19 Shauna Schimmelpfenni     444                  30:30.08 
 20 Jessica Crocker           367                  30:35.42 
 21 Louisa Cammidge           360                  30:42.70 
 22 Denise Layaye             45                   30:54.45 
 23 Elyssa Schall             328                  31:02.55 
 24 Rebecca Enns              31                   31:06.64 
 25 Kim Boroczi               423                  31:53.86 
 26 Veronica Quezada          312                  32:19.58 
 27 Wendy Fertschneider       50                   32:23.30 
 28 Melinda Scott             404                  32:37.74 
 29 Annie Allen               277                  32:39.92 
 30 Lisandra Graham           253                  32:59.92 
 31 Nancy Norton              343                  33:48.74 
 32 Kaitlyn Spann             377                  33:57.39 
 33 Olivia Otter              271                  34:09.08 
 34 Bella Otter               270                  34:09.55 
 35 Anna Archibald            385                  34:10.14 
 36 Grace Nickerson           409                  34:47.61 
 37 Andrea Hernandez          317                  34:48.61 
 38 Hallie Cooks              289                  35:13.21 
 39 Heidi Bezaire             76                   35:30.17 
 40 Scout Bidleman            389                  35:33.64 
 41 Erin Culp                 207                  35:40.52 
 42 Sarah Case                356                  35:49.67 
 43 Lucia Peterson            357                  36:01.24 
 44 McKay Knecht              348                  36:15.77 
 45 Jeananne Ruck             349                  36:18.36 
 46 Hannah Cooks              286                  37:05.70 
 47 Alexandra Thompson        341                  37:14.86 
 48 Lori Chamberlain          428                  37:17.21 
 49 Christi Cooks             228                  37:22.58 
 50 Yvonne Castelli           117                  38:24.64 
 51 Mercedez Callenes         392                  38:26.92 
 52 Sally Bidleman            387                  38:32.99 
 53 Haidyn Cooks              287                  40:03.58 
 54 Charlee Squyres           411                  40:40.58 
 55 Tamara Wright             201                  41:04.61 
 56 Stephanie Buller          20                   42:53.80 
 57 Amanda Adams              457                  43:00.39 
 58 McKaye Jones              302                  43:00.80 
 59 Charolette Stock          376                  43:35.92 
 60 Amber Taylor              7                    43:43.83 
 61 Yvonne Davis              347                  47:27.33 
 62 Erica Walters             445                  47:27.80 
 63 Emma Mueller              415                  47:37.77 
 64 Tamara Cox                379                  47:45.55 
 65 Mackenzie Wilson          406                  47:46.55 
 66 Jen Wilson                405                  47:59.52 
 67 Lucia Puentes             441                  49:53.55 
 68 Paula Kopper              258                  50:13.86 
 69 Emily Gore                260                  50:20.36 
 70 April Terpilowski         259                  50:40.89 
 71 Melinda Archibald         386                  51:40.39 
 72 Violet Luera              297                  51:44.42 
 73 Katie Luera               296                  51:47.11 
 74 Lindsay Soto              221                  52:09.77 
 75 Julie Sorenson            265                  52:11.70 
 76 Jessica Shatwell          446                  52:17.27 
 77 Marley Stock              369                  52:36.30 
 78 Ally Lopez                375                  52:36.77 
 79 Debby Boutros             234                  53:01.70 
 80 Kai Martin                288                  53:51.74 
 81 Jeanna Akey               211                  54:20.61 
 82 Diana Wagenseil           306                  54:25.77 
 83 Sue Gibler                261                  54:28.11 
 84 Ava Gibler                436                  54:28.61 
 85 Zora Evans                394                  54:41.80 
 86 Sheila Scott              243                  54:43.39 
 87 Lindsey Watkins           363                  54:51.99 
 88 Cindy Crocker             373                  55:09.33 
 89 Lisa Tibbetts             400                  55:11.83 
 90 Diana Macken              399                  55:13.14 
 91 Jill Powell               401                  55:22.14 
 92 Cynthia McGuffin          282                  55:23.61 
 93 Lynda Plescia             332                  55:26.21 
 94 Kim McCue                 333                  55:34.52 
 95 Millissa Johnson          391                  55:35.49 
 96 Makenzie Jester           390                  55:43.08 
 97 Joel Mueller              414                  55:44.95 
 98 Sue Bassett               238                  55:45.74 
 99 Kimberly Frace            416                  56:45.89 
100 Cassie Nash               354                  56:55.02 
101 Jessica Nash              352                  56:55.99 
102 Kelsey Madden             430                  58:43.55 
103 Leah Jones                429                  58:44.08 
104 Nicole Einfalt            320                  59:16.70 
105 Jaymie Wells              427                  59:17.45 
106 Suzanne Davis             223                  59:20.27 
107 Kelly Gleason             224                  59:20.67 
108 Chris Shuck               380                  59:27.95 
109 Rory Culp                 305                  59:28.89 
110 Makenna Pugh              292                  59:35.89 
111 Kim Parisi                408                  1:00:07.2
112 Mary Pat George           267                  1:00:31.8
113 Lauri Graham              251                  1:00:33.1
114 Mary Puentes              437                  1:01:01.8
115 Katie McKinley            396                  1:01:06.2
116 Laura McKinley            395                  1:01:08.4
117 Brittney McKinley         397                  1:01:09.1
118 Englund Erin              413                  1:01:11.1
119 Ann Peterson              434                  1:02:25.3
120 Meg Williamson            77                   1:03:35.1
121 Linda Sorensen            340                  1:05:13.8
122 Linda Powell-McMillan     345                  1:05:55.1
123 Kathleen Moore            4                    1:17:35.8
124 Sharilynn Frace           5                    1:17:36.4
------------------------------------------------------------
                            Men                             
------------------------------------------------------------
  1 Axel Reich                412                  17:45.70 
  2 Greg Jameson              334                  19:13.58 
  3 Oscar Allen               278                  20:09.49 
  4 Tucker Bidleman           388                  20:37.61 
  5 Rodrigo Gutierrez         370                  23:40.64 
  6 Raymond Peck              318                  23:45.64 
  7 Alex Schindler            455                  23:46.61 
  8 Easton Young              314                  23:48.83 
  9 Ethan Castelli            116                  24:01.39 
 10 George Allen              279                  24:03.83 
 11 Mitch Barnett             403                  25:42.24 
 12 Adrian Garcia             442                  26:35.70 
 13 Ayden Eismann             435                  27:14.02 
 14 Michael Young             311                  27:46.05 
 15 John Oppenheimer          319                  28:21.33 
 16 Mark Oppenheimer          321                  28:21.74 
 17 Andrew Crocker            368                  28:52.83 
 18 Andrew Dixon              421                  29:15.33 
 19 Reece Crocker             452                  29:35.99 
 20 Jacoby Young              313                  29:42.17 
 21 Don Norton                344                  29:48.61 
 22 Bryan Sennett             422                  29:51.70 
 23 Ryan Allen                280                  29:59.61 
 24 Jesse Lankes              450                  30:06.49 
 25 Ryan Crocker              451                  30:35.08 
 26 Jack Johnson              329                  31:01.80 
 27 Jackson Frace             418                  32:07.67 
 28 Rod Kalpakoff             447                  33:31.02 
 29 Waylon Watkins            371                  33:55.14 
 30 Alec Mahar                154                  35:12.27 
 31 Sawyer Culp               300                  35:24.14 
 32 Charles Nickerson         410                  35:24.64 
 33 Brady Spann               378                  35:31.11 
 34 Jacob Moss                338                  35:52.86 
 35 Jaxon Moss                339                  36:00.49 
 36 Mike Land                 433                  38:20.08 
 37 Fred Rott                 454                  38:34.05 
 38 Phillip Usher             350                  39:06.08 
 39 Peter Afsari              361                  40:12.08 
 40 Mike Wright               200                  42:50.05 
 41 Braedon Frace             3                    43:41.64 
 42 Joshua Frace              417                  43:50.86 
 43 Dylan Watkins             453                  47:25.24 
 44 Richard Crocker           372                  47:44.64 
 45 Eric Michaelson           254                  48:34.33 
 46 Greg Sorenson             266                  52:11.21 
 47 Colter Stock              365                  52:51.45 
 48 Logan Akey                212                  53:52.11 
 49 Ronan Akey                213                  54:16.92 
 50 Tony Evans                393                  54:42.92 
 51 David Scott               308                  54:51.27 
 52 Madison Stock             364                  55:44.21 
 53 Felix Acevedo             374                  56:53.17 
 54 Alex Pena                 449                  56:54.11 
 55 Jesse Noland              431                  58:25.27 
 56 Hal Wells                 426                  59:19.08 
 57 Aaron Culp                301                  59:31.52 
 58 Steve Pugh                291                  59:39.39 
 59 Richard Veum              407                  1:00:06.8
 60 Ron George                268                  1:00:53.2
 61 Luis Puentes              438                  1:00:53.7
 62 Joshua Graham             252                  1:01:03.5
 63 Carson Nash               355                  1:01:16.3
 64 Darren Nash               353                  1:01:17.1
 65 Tim Wendorff              336                  1:01:17.8
 66 Alan Banks                335                  1:01:19.2
 67 carl lockwood             330                  1:03:33.9
 68 Hugh Williamson           263                  1:04:28.4
 69 Warren Frace              6                    1:18:10.7


         Run 4 Bitti & Brynn 2022         
         Santa Margarita Lake, Santa Margarita, CA            

                          10K Run                           
============================================================
    Name                      Bib No.              Time
------------------------------------------------------------
                              Women                            
------------------------------------------------------------
  1 Nora Pizzella             68                   44:19.34 
  2 Charlotte Castelli        115                  47:06.65 
  3 Miranda Daschian          160                  50:11.08 
  4 Molly Mulay               142                  50:36.93 
  5 Prapatsri Tullman         122                  55:09.33 
  6 Hope Morgan               21                   55:25.49 
  7 Kacey Journey             79                   55:58.30 
  8 Jaiden Anguiano           88                   56:19.18 
  9 Rosalie Smith             108                  57:00.58 
 10 Jaime Lee Marsalek        143                  57:42.27 
 11 Emily Varley              78                   58:39.81 
 12 Kerry Morris              63                   58:55.34 
 13 Cynthia Ramirez-Smith     120                  59:12.68 
 14 Clarice Kariuia           155                  59:36.78 
 15 Mya Castelli              114                  59:56.52 
 16 Cheryl Journey            80                   1:00:04.1
 17 Sasha Baer                134                  1:02:21.6
 18 Grace Chamberlain         90                   1:02:21.9
 19 Sydney Culp               18                   1:02:23.8
 20 Dana Tryde                67                   1:03:32.3
 21 Suzi Jianuzzi             82                   1:04:15.6
 22 Cynthia Lambert           64                   1:05:14.5
 23 Saskia Wright             113                  1:06:50.4
 24 Anna Brannen              72                   1:06:50.8
 25 Jazz Griffiths            144                  1:08:51.2
 26 Deborah Nottenkamper      91                   1:09:04.5
 27 Corrine O'Rourke          47                   1:09:14.7
 28 Lauren Lefebvre           123                  1:11:57.2
 29 Erin Gray                 132                  1:12:15.4
 30 Erin Bixler               135                  1:13:22.1
 31 Shannon Myers             99                   1:13:26.0
 32 Christine Rudman          124                  1:14:04.8
 33 Stephanie Marenne         121                  1:15:42.4
 34 Jaime Hill                38                   1:16:38.3
 35 Jannea Long               58                   1:16:38.9
 36 Katie Brown               53                   1:17:23.2
 37 Lacee Castaneda           105                  1:17:35.4
 38 Deena Miller              48                   1:18:22.0
 39 Laurie Reynolds           152                  1:21:51.7
 40 Lori Bagby                87                   1:21:52.7
 41 Julie Franklin            153                  1:21:53.4
 42 Tammy Miller              35                   1:21:53.8
 43 Kelli Downs               112                  1:21:54.0
 44 Tracey Finegan            83                   1:21:54.9
 45 Karen Park                71                   1:22:03.3
 46 Patricia Schierer         16                   1:24:34.5
 47 Katie Goldstein           103                  1:30:15.4
 48 Lori Hicks                66                   1:33:16.9
 49 Holly Prieto              139                  1:33:17.2
 50 Roni Gill                 92                   1:38:42.7
 51 Jennifer Glenesk          43                   1:39:01.2
 52 Peggy Mayo                119                  1:43:38.7
 53 Maria O'Reilly            17                   1:54:07.9
 54 Debra Roberts             25                   1:54:08.7
------------------------------------------------------------
                              Men                             
------------------------------------------------------------
  1 Matthew Herrera           126                  37:15.93 
  2 Connor Fisher             69                   37:17.81 
  3 Max Stapel-Kalat          95                   41:15.65 
  4 Alan Squyres              133                  41:22.46 
  5 Steven Scruggs            98                   42:10.90 
  6 Jason Scruggs             97                   42:46.71 
  7 Nate Anguiano             89                   42:50.05 
  8 Stephen Potter            101                  44:01.81 
  9 Kobi Kelly                147                  44:19.74 
 10 Matthew Shuck             129                  48:52.40 
 11 Michael Dean              130                  49:14.65 
 12 Deegan Miller             49                   49:15.08 
 13 Wyatt Baxter              141                  50:37.34 
 14 Neil Andrews              149                  50:38.40 
 15 Tony Lopez                127                  50:55.68 
 16 Gavin Walters             148                  51:10.62 
 17 Barrett Crake             110                  51:31.40 
 18 Felipe DeJesus            85                   51:56.11 
 19 Kylen Fleishman           150                  51:56.46 
 20 Dave Bezaire              75                   52:00.18 
 21 Jacob Pomi                257                  52:40.40 
 22 Rick Chezum               19                   54:16.68 
 23 Joseph Callenes           131                  55:18.14 
 24 William Harris            96                   56:37.43 
 25 Troy Rudman               125                  58:36.68 
 26 Coker Ellsworth           44                   1:01:06.0
 27 Gregg Chamberlain         146                  1:02:22.3
 28 Rudy Uribe                137                  1:02:57.0
 29 Rudy Uribe                136                  1:03:03.5
 30 simon hamid               128                  1:03:59.4
 31 Bandy Smith               109                  1:06:09.2
 32 Field Gibson              74                   1:06:58.9
 33 David Dunbar              40                   1:07:03.4
 34 Tony Reynolds             151                  1:08:42.4
 35 Oscar Hill                39                   1:16:37.7
 36 Diego Castaneda           104                  1:17:36.2
 37 Mark Glenesk              42                   1:24:55.9
 38 Bill Hudson               32                   1:30:09.7
 39 Steve Gill                93                   1:38:43.2